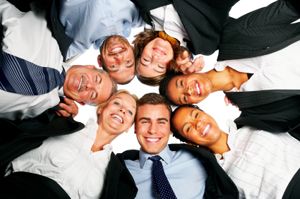 Although we're proud of our products, services, and technology, nothing matches the pride we have in our staff. You see, we learned long ago that we're really in the business of building relationships. For that reason, we put a premium on hiring only the most qualified individuals to serve on our team.
Every person on our staff is committed to providing excellent customer service and producing high-quality products and services. As you work with us in the future, we're confident that you'll find this to be true.
Southeastern Graphics is a commercial printing holding company that has been in business in both the Atlanta and Tampa areas for over 30 years. Elliott Dahle founded the company with the simple premise that his corporate clients deserved exceptional service, quality and pricing. Each order is checked by three people for quality and accuracy before it is shipped. Mr. Dahle takes personal responsibility for each order that is shipped to a client. Our guarantee is very clear: if we made a mistake or if the quality is not up to our client's expectation - we will reprint at no cost to our customer. In addition to quality, turnaround time for both proofs and production are well below industry averages. We strive to typeset, send proofs and ship the final product within five business days. Often we are able to shorten this timetable and do accommodate rush orders at no extra cost whenever possible.
Our typesetting and graphic design is provided Janet Sprouse President of Professional Impressions in Lawrenceville, GA. Janet has over 25 years of experience in all facets of graphic design & production related to the commercial printing industry.
Print production is done via a joint partnership with Picasso Brothers Printing of Norcross, GA. John Zourzoukis, General Manager and owner, has provided commercial printing services to Southeastern Graphics since 2005 and to the Atlanta business community for over 25 years. John has an excellent production staff of 13 employees who all are committed to producing the highest quality products and service in the commercial printing industry.